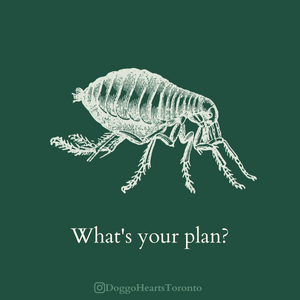 Holistic Approach to Fleas and Ticks Prevention
With spring just around the corner, do you have a plan to protect your dogs from ticks, fleas and mosquitoes?
At this time around, your vets will remind you about the importance of flea, tick and heart worm prevention and recommend medications. Please take the time to learn about the ingredients (such as isoxazoline) found in conventional flea and tick medications before deciding to make your purchase from the vet.
In preparation for this spring season, we've partnered with Wildly Blended to offer holistic alternatives to flea and tick prevention.
<
Wildly Blended Bug Off
>
"The internal powder is very nutrient dense, as it's jam packed with some immune boosting, freeze dried ingredients. If your pet is new to this supplement, take it SLOW. Work your way up to the recommended dose, and allow several weeks for the powder to start altering your pet's scent! Once your pet is doing well with the recommended dose, you can double the dose if you need to (if you are in a very dense populated flea and tick area)."
We highly encourage to protect your dog internally (powder) and externally (topical spray) when it comes to natural flea and tick prevention.
---