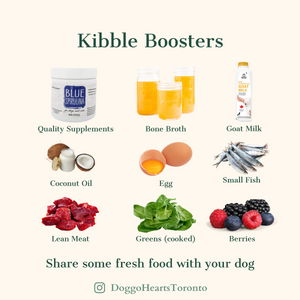 Kibble Booster
🦴 Bone Broth: dry kibble puts your dog at constant dehydration. Adding bone broth or water helps hydrate your dog's bowl.
🥛 Raw Goat Milk: another great way to add moisture to your dog's bowl. Full of probiotics and well tolerated for dogs with sensitive stomach.
🥥 Coconut Oil: helps relieve dry skin and has anti fungal properties. Make sure to feed in small amounts. Feeding too much coconut oil can lead to leaky gut and inflammation.
🥚Egg: high in essential amino acids and fatty acids. If you want to feed the shells make sure the eggs are farm fresh.
🐟Small Fish: adding fish to your dog's diet is a great way to boost EPA and DHA. Make sure to feed fish on the lower food chain. Anchovy, smelt, sardine, mackerel, salmon are great options (mackerel and salmon recommended for picky eaters).
🥩 Lean Meat: boost the protein content by adding lean meat
🥦 Leafy Greens: adding leafy greens provide dietary fibre and phytonutrients. Lightly steamed and puree veggies are more digestible.
🍓 Berries: high in antioxidants and usually available in our fridge. Share a couple berries with your dog!
💪 High quality supplements
+ spirulina: high in antioxidants, reduces allergy symptoms
+ joint supplements
+ probiotics
---